Keeping up with the upkeep and cleanliness of your house may be challenging. An excellent method to remain on top of things is to maintain a list of maintenance tasks that need to be done. To keep track of everything, you may divide it into daily, weekly, monthly, and bimonthly chunks.
No matter where you are in the process of making a list of things that need to be done around the house, the odds are that regular upholstery cleaning hasn't entered your mind. In this article, you will learn about "Why Upholstery Cleaning Should Be On Your Home Upkeep Checklist?"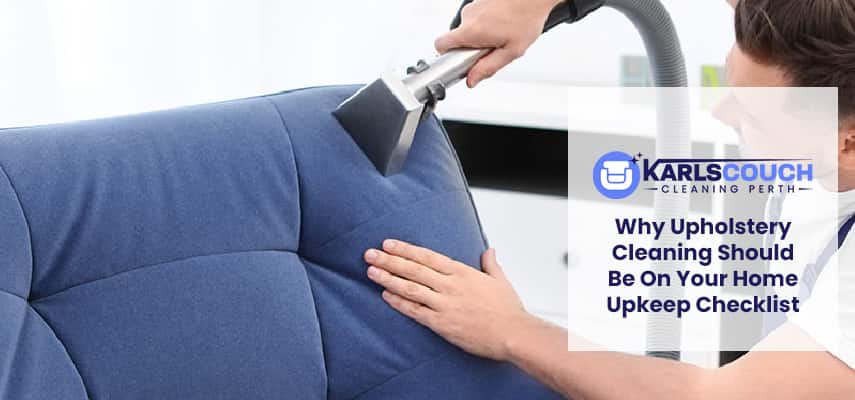 Include Upholstery Cleaning in Your Routine Home Maintenance
Your couch and other upholstered furniture are probably put through a lot of wear and tear daily. If you and your family spend nights together, read in the mornings, and throw a lot of parties in the living room. However, most households' couches and upholstered furniture are primarily valued for their comfort and nothing else. These people often overlook that such items also trap dust and other airborne contaminants. Like a magnet, it draws in pollutants, preventing them from circulating and settling in the air. So, hygiene should be a primary concern. Cleaning your plush upholstery regularly can keep it looking and feeling like new.
Here are a few arguments that favour "Why Upholstery Cleaning Should Be On Your Home Upkeep Checklist?"
Allergens, including dust mites, pollen, and animal dander may readily settle into the upholstery. Cleaning your upholstery regularly is one way to lessen your exposure to allergens in the house.
Furniture may provide health risks beyond allergies. The cracks and crevices in your furniture are prime real estate for bacteria to flourish. This bacterium will not only create a foul odour in your house, but it may also cause a cascade of illnesses in your family. Maintaining a regular cleaning schedule will ensure that the germs are eradicated, and your family is safe.
Furniture may become grubby and unsanitary if left to its own devices. Your furniture's colours may have faded and may not seem as good as when you originally bought it. Cleaning your upholstery regularly is the best way to keep it looking fresh and new. Your furniture's original appearance and feel may be restored by removing the dirt and dust.
Careful maintenance, either by you or a professional, may increase the longevity of your furniture. In the long term, this might help you save cash. The expense of changing furniture regularly might add up.
When Should I Clean My Upholstery?
When dealing with upholstered pieces, care must be used. This is necessary to get the most out of the health advantages. And keep the upholstery looking great for as long as possible. It's essential to keep the upholstery in excellent condition regardless of how much time you spend at home.
Typical Maintenance
You still need to regularly clean upholstered furniture even if you don't have it professionally cleaned.
Dusting should be done daily or every other day, if possible—this aids in keeping the furniture cleaner for longer.
Upholstered furniture requires a minimum of twice-weekly vacuuming. You can get away with weekly vacuuming if you're busy and don't have any kids or pets. Never go beyond that, however.
A stain should be treated as soon as possible before it gets entrenched. It is impossible to remove with standard upholstery cleaning methods.
Deep Cleaning Service
Experts from a firm that provides upholstery cleaning services often do extensive cleaning. For optimum effects, cleaning should be done once or every other year. Only when dealing with odour, tenacious stains, or comparable contaminants, should you attempt a thorough clean at home on your own. And be sure you've got the know-how and equipment to give those upholstered pieces a thorough cleaning.
Expert Cleaning for Upholstery
If you care about the appearance and longevity of your upholstered furniture, you must get it cleaned by a professional.
It's not easy to get rid of grime, dust, allergies, dust mites, stains, etc., from upholstery. Still, certified specialists have the necessary equipment and cleaning solutions to do the job.
Deep cleaning of the fibres and padding is a standard part of professional couch cleaning. It is often accomplished by using steam washing or a similar approach.
You may not need to steam clean your upholstered furniture much if you have experts regularly clean it. Once every three to six months is a reasonable interval to do a thorough cleaning here. It is recommended that professional upholstery cleaning be used at least once a year if you do not want to spend the money doing it more often. For those who notice a musty odour earlier than that, it's time to hire cleaners.
Final Words
We hope you got the answer to "Why Upholstery Cleaning Should Be On Your Home Upkeep Checklist." Perhaps you're wondering "What is the ideal practice for maintaining the cleanliness of your furnishings?" Hiring a professional is a smart option since they will perform a thorough job, and they can clean your upholstery at the same time they clean your carpets. Upholstery cleaners provide the tools necessary to thoroughly clean and disinfect your furniture without causing any harm to delicate fabrics. The significant benefits of having your upholstery professionally cleaned are these.