Upholstery Cleaning is essential for keeping your household safe and healthy.
We all do have upholstery in our homes, and it makes them appear beautiful and welcoming. And, just as wonderful things require care, so does your upholstery. Then again, upholstery is a material that quickly collects dust and bacteria. As a result, the most crucial step in maintaining your house germ and dust-free is to wash your upholstery. Cleaning your upholstery furniture also extends its life. Thus you don't have to replace it every time you notice its elegance losing with time.
Upholstery attracts dirt more frequently, providing a great habitat for bacteria and dust mites. Comfortable couches and armchairs are also made of textiles. Which are a favourite and pleasant home for all fungi, bacteria, and viruses. These viruses and dust mites could cause allergic reactions in your skin, throat, and other areas. As a result, we must clean them regularly. Let's dig a little deeper into how is upholstery cleaning a great benefit for your health.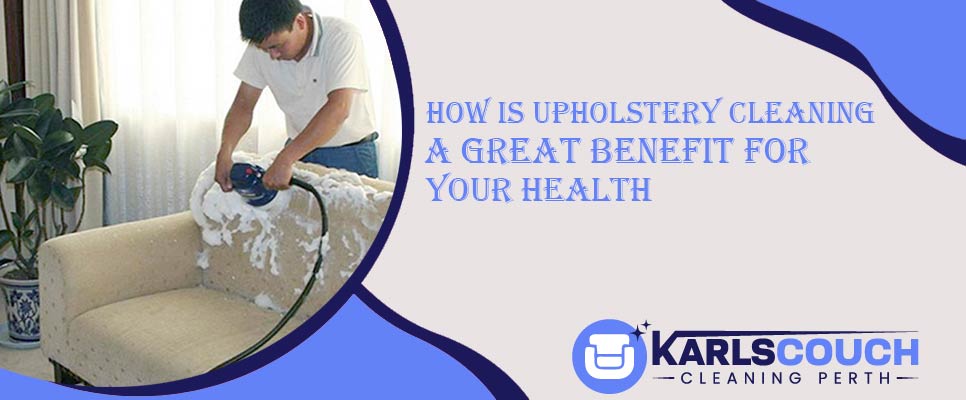 5 Reasons To Support How Is Upholstery Cleaning A Great Benefit For Your Health
While preserving your furniture tidy improves its overall appeal. Moreover, having professional upholstery cleaning could also offer you a slew of health advantages. Upholstery cleaning could make your house a safer place for everybody. Whether from better air quality to fewer allergens for everybody who lives there. These are some of the most significant health benefits of getting your upholstery cleaning services:
Removes Bacteria
Even if you believed you had thoroughly cleaned the accident off your furnishings, bacteria might still be there. This penetrates the fibres of your upholstery fabric which can have an impact on those people who have respiratory difficulties or allergies. Despite your knowledge, your house might be getting you sick! Your furnishings will keep their beauty and be an important portion of your tidy house if you have frequent upholstery cleaning services.
Reduces Allergies
Since your furniture accumulates what's around the environment, it might get contaminated with germs that are making you unwell. The pollen, pet hair, and mildew that have been crushed into the material can aggravate your symptoms and make breathing difficult inside your own house. Routine upholstery cleaning may eliminate allergens and enable your furnishings to take deep breaths without harming or dampening the material. It can alleviate allergy problems and make everybody in your family healthier.
Removes Smells
Your upholstery can trap scents, making the odour of your property uncomfortable. Spending on regular upholstery cleaning can help eradicate unpleasant odours from your upholstery and help the environment in your house as a consequence of food stains, mildew, smoking, or pet dander. This will help you to breathe comfortably and avoid any unpleasant odours that may put you or your friends off.
Creates More Sanitary Conditions
Our furniture serves as a haven for filth and bacteria. The material of your furniture is a haven for all of this. And can lead to an unclean living environment for you. This is where professional  Regular upholstery cleaning can come in handy. It will assist remove filth and food debris that has been embedded in it. This would not only help your furniture glisten, but it will also leave you with a cleaner house to be comfortable at.
Improves Quality Of The Air
Because your furniture collects far too much dust, filth, and pollutants on its covering, washing the fabric may do wonders for the pollution levels in your house. These pollutants will no longer travel into the atmosphere when somebody sits, keeping the air you inhale in your house cleaner.
By getting upholstery cleaning services regularly. You can keep your house healthier and cleaner for everyone who lives there. You can avoid allergies. And you'll sigh with relief when you notice how clean your house smells.
Conclusion
We can effortlessly dust every inch of our house, even our upholstery. The viruses and dust mites that live in the upholstery, do not go as quickly. As a result, vacuuming each section and nook of your upholstery becomes essential. This vacuum cleaning, however, must be done with utmost caution so that the cushioned textile of the couches and chairs are not destroyed. Therefore, it is best to hire professionals for such tasks.