People and their love for leather never go away. The material, the colours, and the sophisticated looks of leather are highly attractive and give any home a vibrant shine. Leather is costly. It is why using them with extra care is a must. But, no matter how cautiously people use leather items, keeping them away from unexpected and accidental stains is inevitable.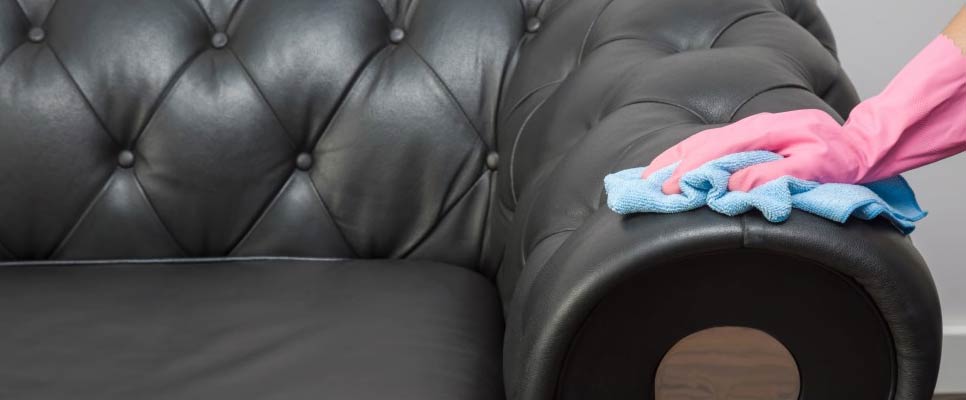 At such points, the first thing that comes to mind is how to remove stains from leather upholstery. In this article, we will discuss how you can take care of them by removing stains and keeping them as new for a longer time.
What Causes Leather To Stain?
Different materials can cause soft to hard stains to leather upholsteries. Sweat from the body, hair oils and serums, markers and inks, grease, clear liquids, water, coffee, tea, and red wine can cause tough stains to lather items. These stains can be caused instantly or over some time due to regular contact.
General Methods For Removing Stains From Leather
People who have faced such a horrible incident know how bad stains look on leather. But, if something like this has never happened to you, it does not mean it will not happen shortly. So staying prepared is necessary.
Removing stains from leather varies based on the stain type. But some simple homemade DIYs can do wonders for your stain removal needs. The first rule of couch cleaning leather stains is you have to be gentle.
First, you need a soft cloth to clean the surface. Then, take a bowl and mix 50/50 vinegar and water solution. After that, use a microfiber cloth and rub the mixture on the surface. Try to do it circularly so the stain will be removed easily. Repeat the process for a few minutes until the stain goes away. But remember, don't soak the area fully with the solution; a soft-handed damping would be enough.
If your leather item is white, use any one of these two methods
A mix of vinegar and oil – Take a cup and mix 1/2 olive oil and 1/4 vinegar in a spray bottle. Then, use the spray over the stain, let that set for five minutes, and you can wipe it with a soft cloth. Don't try to apply bleach or ammonia-based cleaners, as they can damage the leather badly.
Toothpaste – Toothpaste could be a great DIY to remove stains from leather. Take a damp cloth and rub the stained area. Then, use a soft bristle toothbrush and start scrubbing lightly. Then, wipe away the area when the stain removes fully.
How To Remove Stains From Leather?
There is no complex science in understanding the type of stains and how to remove stains from leather upholstery. Following some simple and easy methods, you can get back the desired look of your leather item.
Dark Stains
Removing dark stains from light-coloured leather can be done easily by making a paste. In this, mix some lemon juice with tartar cream. Apply and leave it for 10 minutes. Then, apply the paste again. Once it's done, wipe it away with a damp sponge or cloth.
Water Stains
Water stains can be very tough sometimes. But you can remove the stained area by spraying and rubbing a little water. Once it dries, apply blow drying. Never leave your leather for sun drying as it can damage the colour.
Oil Stains
If there is a grease or oil stain, sprinkling baking soda or cornstarch can give good results. Rub it gently and leave it for a few hours or overnight. The oil would get absorbed easily by the soda or starch. Then, wipe off the powder with a soft cloth.
Ink Stains
Dipping a cotton ball in rubbing alcohol can gently remove the ink stains. A quick blow dry can be applied for drying. Applying a thick coat of non-gel or non-oily cuticle remover on the stain overnight can work if it doesn't work.
Coffee & Tea Stains
Fresh stains from coffee and tea are too bad for leather. Try to blot up the excess liquid as quickly as possible. Then, start cleaning the area with a mild conditioning soap. You can even apply a water and vinegar mixture with a soft cloth for the dried coffee or tea stains.
Red Wine
In this case, use a paper towel or clean cloth to remove the excess. Then, apply conditioning soap for cleaning. The next step is dabbing the area with a dry cloth until the area gets dried. Repeat the process if needed.
Conclusion
Keeping your living places and household items clean and appealing can make you happier. These cleaning tips on how to remove stains from leather upholstery could help you keep the costly leather items beautiful for longer. By any chance, you can not do the tasks on your own; you can always call the experts for effective stain removal.